Quick Facts
Age
32 years
Birth Name
Frederick Charles Freeman
Birth Day
09/12/1989
Father
Fred Freeman
Mother
Rosemary Freeman
Nationality
Canadian & American
Height
6ft 5in (1.96 m)
Freddie Freeman is a Canadian-American professional baseball first baseman who is also the highest-paid first baseman of the Atlanta Braves.
Freddie is an award-winning baseball player who currently plays for the team Atlanta Braves of the Major League Baseball (MBA).
Growing up in Villa Park, California Freddie faced the devastating loss of his mom at the age of 10 and the near loss of his father 2 years later. While overcoming all the challenges, he did find his life partner along the way but infertility would present a roadblock towards having the family they envisioned.
However, jersey no.5 of the Atlanta Braves Freddie is now, father of 3 boys.
Wife And Children
Freddie Freeman married his lady love, Chelsea Goff on 25th November 2014 in Miami, Florida. The duo got engaged in January 2014 and initially began dating in July 2011.
Freddie's wife Chelsea is a former model, a real estate agent, social media influencer, and in addition to them, she also sells products on amazon. Furthermore, she also owns a clothing brand named "Chelsea Freeman Collection".
See Also: Josh Tomlin Married Life With Wife, Children, Family, Net Worth
Chelsea knew how much Freddie wanted a big family even before getting married to him. After trying for pregnancy for a couple of years, the pair were blessed with their first child, a son named Frederick Charles Freeman II also called Charlie on 15 September 2016.
Chelsea gave birth to Charlie by emergency C-section and after the birth of their first child, Chelsea was been told that she may not be able to have another baby due to the complications. After hearing so, the pair explored fertility options and arranged for surrogacy to carry their child.
Luckily, Chelsea also got pregnant alongside the surrogate mother, and Freddie and his wife were blessed with 2 more sons. Chelsea first welcomed their second son Brandon John Freeman on 30 December 2020 who was later joined by the youngest Maximus Turner Freeman who was born to a surrogate mother.
Although Brandon and Maximus were born 6 weeks apart they call them "Twins, with a twist." Their son Brandon John was named in honor of Chelsea's grandfather while another son Maximus Turner's middle name is said to be the reference to the ballpark where Freddie played his first home game with Atlanta Braves.
Furthermore, Freeman would also love to have a daughter in their family.
Discover: Dwight Howard Children, Wife, Partners, Salary, Net Worth
Family & Early Life
Freddie Freeman was born on 12 September 1989 in Fountain Valley, California to father Fred Freeman and mother Rosemary Freeman. His birth name is Frederick Charles Freeman and he holds American nationality. Freddie is the youngest among the 3 siblings. He has 2 elder brothers in terms of siblings namely, Andrew Freeman and Phillip Freeman.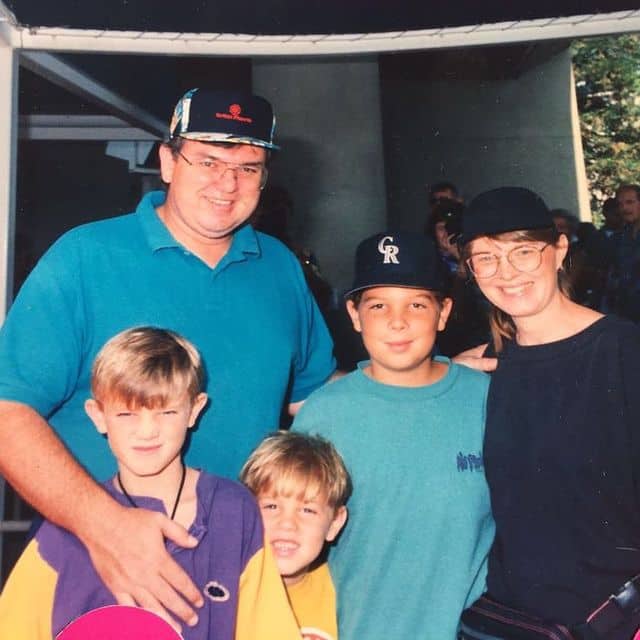 His both parents were born in the Toronto area of Canada and his dad proposed to his mom at the age of 16, and they were wed by the time they completed college. His dad Fred established a CPA firm in California and the family settled in America along with their 3 sons but it is said that Freddie's mom Rosemary never applied for U.S. citizenship. During the childhood of Freeman's kids, whenever they had to do a country report it was always Canada.
His mom, Rosemary died of melanoma in June 2000 when Freddie was just 10 years old. After their mom passed away his dad Fred devoted his life towards his 3 sons.
As a child, Freddie always pictured him as an accountant like his dad but eventually as he spent most of the time practicing to avoid the emptiness at home filled him with a purpose in the wider world.
Read Further: Tate Martell Family, Girlfriend, Parents, Age, Now
Fred raised his 3 sons as a single father and in order to throw batting practice to his sons, Fred also stepped away from his time-consuming job as a certified public accountant. Moreover, he was always there for them. His father remarried later and Freddie also has a good connection with his step-mom.
Education & Height
Freddie Freeman attended El Modena High School in Orange, California and during his high school days, he was a third baseman and a pitcher. He was coached by Steve Bernard at El Modena who took him under his wing and helped shape Freddie.
According to the wiki, Freddie Freeman stands at a height of about 6ft and 5 inches. Furthermore, he holds dual nationality, which is Canadian and American. As per the ethnicity of Freddie, he is of English and Scottish descent.
Freddie Freeman Salary & Net Worth
Canadian-American professional baseball player is the 5-time All-Stat player of the years 2013, 2014 2018, 2019, and 2021. 
2020 National League MVP Freddie Freeman of the Atlanta Braves is known as Freddie The Hugger in baseball.
Freddie had 8 years $135 million contract with the Atlanta Braves which expired in November 2020. After then, he was said to be in contract with Atlanta Braves for just 3 more weeks while according to Spotrac, Freddie's base salary of 2021 is $22 million.
Moreover, Freddie has accumulated a net worth of about $40 million as of now.
For More News, Entertainment, Follow CelebWikiCorner.