Quick Facts
Age
30 years
Birth Name
Ross Chastain
Birthday
December 4, 1992
Birth place
Alva, Florida. 
Father
Ralph Chastain
Mother
Mother Susan
College/University
Riverdale High School
Nationality
American
Height
5 feet and 8 inches
Net Worth
$1 to $ 5 million.
Zodiac Sign
Sagittarius
Humans have always had an urge to enjoy competitions be it making bulls fight or making the horses run to today's human running race or automobile racing. Experts say that people love watching competitions cause it's just another way of connecting to people around us.
Most people who love watching automobile racing are automobile lovers and watching those fast-flowing mobiles on a lane obviously gives an Endorphins rush. Talking about endorphins rush, Ross Chastain is a professional stock car racing driver who smashes a watermelon every time he wins.
Who Are The Parents Of Ross Chastain?
Ross Chastain was born on December 4, 1992, to father Ralph Chastain and Mother Susan who is a traveling nurse. The family also consists of a brother names Chad Chastain. They were born and brought up in Alva, Florida. 
Also Read:  Kasey Kahne Biography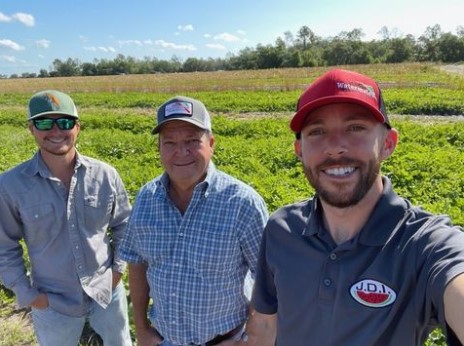 He attended Riverdale High School in Fort Myers. He later went on to join Florida Gulf Coast University but dropped out to race in the Truck Series. He used to work Watermelon Farmer on his family farm. This is the very reason why he smashes a watermelon every time he wins a race. It's his victory act. He is nicknamed "The Water Melon Man" or "Melon Man" after this act. 
When Did Ross Chastain Start Car Racing? 
Chastain's father is a car racing enthusiast and this hobby made his son attracted to racing. Chastain started racing at the young age of twelve when he competed at the late model and Fasttrack Series event. The twelve years scored over fifty wins in feature events by winning three of eight events in the Limited Late Model portion of the 2011 World Series of Asphalt Stock Car Racing. 
Discover: CJ McCollum Biography
In 2011, Ross entered NASCAR Camping World Truck Series with No. 66 as Juntin Mark vacated the seat. In his first h finished 10th position. After playing a few more races he competed for Rookie of the year with honors SS- Green Light Racing. He drove the No. 08 truck which was sponsored by the National Watermelon Association and National Watermelon Promotion Board where he scored a best finish of seventh.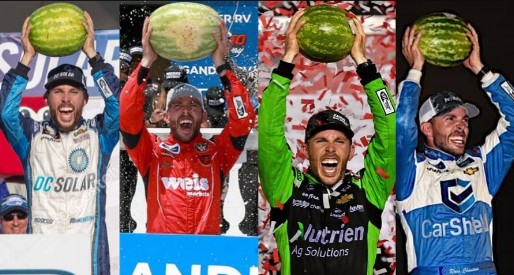 In the year 2013, Chastain drove in 15 Camping World Truck Series for Brad Keselowski Racing. He won his first career Truck Series in Iowa Speedway for the Fan Appreciation 200. Chastain quickly moved to RBR Enterprises to play for a part-time schedule in the NASCAR Camping World Truck Series. He then debuted in Nationwide Xfinity Series driving No 55 for Viva Motorsports then Hattori Racing Enterprises replacing Jhonny Sauter where he finished the twelfth making the team's best finish in NASCAR competition. Chastain then joined the team for NASCAR K&N Pro Series East. He joined several teams like JD Motorsports and TriStar Motorsports.  
Discover: How Much Is NASCAR Kasey Kahne Net Worth? His Salary And Earnings Explained
In the year 2017, Chastian performed the best in the Xfinity season with a score of top-five at Iowa making him in 13th position. He also joined Premium Motorsports for Monster Energy NASCAR Cup Series then at the fall Dover race. For years 2018, 2019, 2020, and 2021, Chastain drove for Premium Motorsports, Kauling Racing, and Niece Motorsports while sharing rid with Carson Hocevar and Natalie Decker. In the 2021 Daytona 500 game, while the race was delayed due to rain, he offered food at a McDonald's drive-through for the team which made him viral as a video from GCR was released. The year 2022 began with Chastain finishing 40th place at the 2022 Daytona 500 and 29th at Auto Club Speedway. After that, he raced at Phoniex Raceway, Atlanta Motor Speedway.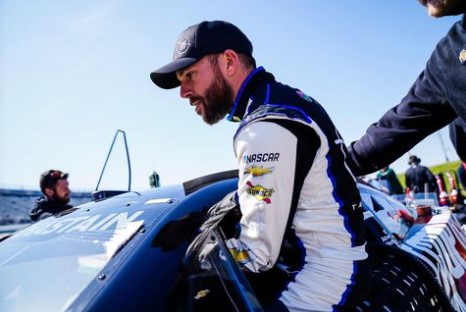 Is Ross Chastain Married? 
No, Chastain isn't married and has no spouse or wife. Nothing is much known about his dating life or girlfriend. He doesn't have any children so far. 
But, Ross is a compassionate young man who loves children and believes that education is something that can shape young minds into good citizens. He visited Children's Hospital and Schools in Fort Mayers because he wanted to see how things are done there. He talked to children and listened to their projects. He later mentioned that he felt great being there with the children. 
Learn More: Rolando Romero Biography
About Ross's game attitude, the rider has been accused of playing way too aggressively on the track. He himself realized and mistake and apologized for his behavior after the game. 
What Is NASCAR Driver Ross Chastain's Net worth?
Driver Ross Chastain's net worth is estimated to be somewhere between $1 to $ 5 million. His source of income is mostly from racing. Apart from this, he also does brand endorsements on his Instagram. 
How tall is Ross Chastain?
Ross Chastain is 5 feet and 8 inches tall in height. He has black eyes and brown-colored hair. 
For More News, Entertainment, Follow CelebWikiCorner.