Quick Facts
Age
51 years
Birth Name
Craig Mazin
Birth place
Brooklyn, New York
Birthday
April 8, 1971
Relationship Status
Married
Nationality
American
Father
Leonard Mazin
Mother
Elaine Mazin
College/University
Princeton University
Net Worth
$6 million
A good script makes a movie great. Every actor picks the script they believe has the potential to connect with the audience. Today screenwriters are credited and acknowledged more than earlier writers. They have good pay, fame, and awards which make them feel valued and respected for their amazing work. These writers understand what are the audience's needs and how they can make the story more appealing. They give meaning to the movie, likewise, today we are talking about a renowned screenwriter who has written many hit movies and TV shows.
Craig Mazin is an American screenwriter, producer, and director well-recognized for the mini-series Chernobyl that premieres on HBO. The show is based on the nuclear disaster that occurred 1986 of the same name.
Where Was Craig Mazin Born?
On April 8, 1971, Craig Mazin was born to Elaine Mazin and Leonard Mazin in Brooklyn, New York. He has not disclosed details about his family except that his parents were Ashkenazi Jewish. Craig was raised on Staten Island, New York but later moved to Marlboro Township, New Jersey at a young age. His grandfather's name was Solomon Mazin and his grandmother's name was Sara Mazin.
See More: Mary Steenburgen Biography
Craig went to Freehold High School and later joined Princeton University where he graduated magna cum laude in psychology in 1992. Craig's freshman-year roommate at university was Ted Cruz, now the junior U.S. senator from Texas. Craig has often discussed Ted's activities and frequently calls him a huge asshole.
What Does Craig Mazin Do For A Living?
Craig Mazin is a producer, director, and screenwriter who has risen to fame after creating the HBO series called Chernobyl. He entered the entertainment industry as a marketing executive at Walt Disney Pictures in the 1990s. later Craig made his screenwriting debut with a sci-fi comedy movie called RocketMan released in 1997. After that, he wrote many movies such as Senseless released in 1988, Scary Movie 3 released in 2003, and many more.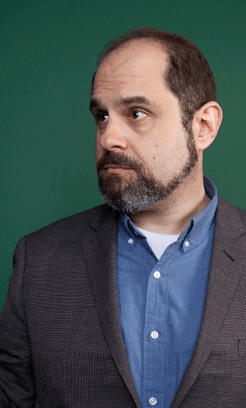 See More: Bret Michaels Biography
Craig also participated in the show called Win Ben Stein's Money released in 1997 but did not win and got eliminated in the second round. Since 2011, Craig has co-hosted the weekly podcast called Scriptnotes with his good friend John August.
In 2000, Craig made his direction debut with low budget superhero movie called the specials and in 2008 made his debut as a producer and created the movie called Superhero Movie. Craig has also worked with director Todd Phillips and co-wrote and produced several movies. As of now, Craig has written the script for The Last of Us video game-based series released in 2020.
Who Is Craig Mazin Married To?
Craig Mazin is a secretive and private person who believes in preserving the privacy of his family members. We know that Craig is a married man with two children but he has kept the identity of his wife and kids a secret. But as we dwell deep into his family life, we did find out a Reddit post from 9 years back where he answered the queries of his people. In one query he did reveal that he had a wife and two children. However, the name of his partner and kids have been kept a mystery. He does not even share pictures of his family on social media.
Discover: Oliver Platt Biography
How Much Is Craig Mazin's Net Worth?
As of the wiki, Craig Mazin has an estimated net worth of $5 million. Craig's major income source is earnings as a producer, screenwriter, and director. He is not active on social media and has a Twitter account with 216k followers but the account is protected. He seems to be very critical of his opinion and chooses the audience he wants to share his discussion with. 
How Tall Is Craig Mazin?
There is no exact height and weight revealed of Craig Mazin. However, his physical appearance comprises dark brown eyes and dark brown hair but he is partially bald.
For More News, Entertainment, Follow CelebWikiCorner.