Quick Facts
Birth Name
Hong Chau
Birth place
Thailand
Age
44 years
Relationship Status
Married
Height
5 feet 1 inches
Weight
52 kg
Nationality
American
Siblings
Two brothers
College/University
Boston University College of Communication
Net Worth
$18 million
Zodiac Sign
Cancer
The following few years have been of Asian people in the Hollywood industry. They have won several award nominations in the past years including several Academy Awards, to name a few, 2023 Michelle Yeoh won the Best Actress Academy Award for their performance in the movie Everything Everywhere all at once, and even the movie won Academy Award for Best Pictures Awards. Today we are going to learn about another American actor of Asian ethnicity, Hong Chau who has received several award nominations.
Hong Chau is an American actor who is famously recognized for her performance as Ngoc Lan Tran in the science fiction comedy movie called Downsizing. The movie was written by Payne and Jim Taylor and directed by Alexander Payne. Hong's character Ngoc is a Vietnamese activist who was shrunk by her government against her will and befriends Paul after she winds up in Leisureland.
Who Are Hong Chau's Parents?
On June 25, 1979, Hong Chau was born to her parents in Thailand in a refugee camp. Before her birth, her parents and two brothers lived in Vietnam and fled their country in 1979 when her mother was six months pregnant with her. During the escape, her father was shot and nearly bled to death. Later a Vietnamese Catholic Church in New Orleans, Louisiana in the United States arranged for a local Vietnamese family to sponsor her family and they moved to America.
Hong said that all her life she felt like she was more accepting of her parents and they were always the people who had to stay in the background or hide in the broom closet. After her family settled in New Orleans and initially her parents washed dishes in a Chinese restaurant. After saving enough money, her family eventually opened up their own convenience store.
See Further: Casey Affleck Biography
What Is Hong Chau's Education Qualification?
Hong Chua was raised in New Orleans East and attended Eleanor McMain Secondary School, Benjamin Franklin High School, and then Louisiana School for Math, Science, and the Arts. Hong received a Pell Grants and attended Boston University where she studied creative writing and later changed her major to film studies when her parents requested her to study something more practical. After graduating from Boston University College of Communication with her film studies major in 2001.
What Is Hong Chau Famous For?
Hong Chau rose to fame after being cast in the comedy-drama movie Downsizing as Ngoc Lan Tran and received a nomination for several awards including the Golden Globe Award for best supporting actress-motion pictures. Following that, she appeared in several movies as the lead character such as Driveways and American Woman released in 2019.
See Further: James Wolk Biography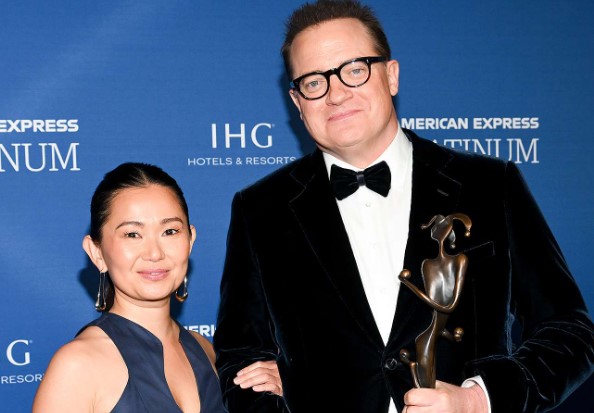 Later in 2021, her performance in the following four movies: The Whale, Showing Up, The Menu, and Asteroid City, she reached the next level of fame. Her performance in the movie The Whale got her nominated for the Academy Award for Best Supporting Actress for the first time. Hong is now set to appear in the upcoming American heist thriller movie called The Instigators which is directed by Doug Liman and written by Chuck Maclean and Casey Affleck.
Who Is Hong Chau Married To?
Hong Chau has become a household name since her fame in the science fiction comedy-drama movie called Downsizing. Hong has millions of fans who are curious about her married life and kids. The Whale star Hong Chau is married and has a child with her partner.
Hong has a baby girl who was born in November 2020 but has not yet revealed her identity. Hong is a private person when it comes to her personal life, she is not even active on social media. She does not often talk about her personal life but in a recent interview with USA Today, she talked about her daughter and husband.
See More: Eleonora Romandini Biography
Hong said that her daughter was just eight weeks old when the production of The Whale started. Hong expressed, 
"I had waited so long to be a parent, I just wanted to focus on that," Chau says. "But a week passed and my husband was like, 'Are you sure? If you want to throw your hat in the ring, I'll be here to support you and we'll make it work.' I don't think I would have been able to do four movies in 2021 had my husband not been very supportive and I knew that my child was being well taken care of at home." 
The movie "The Whale" is about an obese gay man played by Fraser who is mending his relationship with his resentful and estranged daughter played by Sadie Sink. During the interview, Hong said that if her husband had not been very supportive of her and taking care of their child, she would not have been able to do four movies in 2021. However, Hong never mentions the name of her baby daddy or his identity.
How Much Is Hong Chau's Net Worth?
As of the wiki, Hong Chau has an estimated net worth of $18 million with her average salary being $2 million per movie. Hong has seen a rise in her career after the success of the movie Downsizing and has been able to get a raise in her salary since then. To name a few of her movies, her movie called The Whale made a box office collection of $54.8 million against a budget of $3 million. Likewise, another movie called The Menu made a box office collection of $79.6 million against a budget of $30 million. Hong is managed and represented by ICM Partners, an Artistic and Literary representation agency, in Los Angeles, California.
How Tall Is Hong Chau?
Hong Chau has a slim body built with a height of 5 feet 1 inches and weighs around 52 kg at the age of 44. She is a fitness enthusiast and knows the value of a healthy diet. Hong's physical appearance consists of black colored hair and dark brown colored eyes.
For More News, Entertainment, Follow CelebWikiCorner.