Quick Facts
Age
29 years
Birth Name
Joseph Robert Schobert
Birthday
November 6, 1993
Birth place
Waukesha, Wisconsin
College/University
Wisconsin
Relationship Status
Married
Nationality
American
Husband/Wife
Megan McDonnell
Children
Simon West Schobert
Height
6 feet 1 inch
Weight
109kg
Most Asian people are not familiar with American football, it's not similar to the football half of the world plays which is called Soccer in America. American football is also known as Gridiron which is played in the United States and Canada mostly. The ball of American football is oval-shaped, with two teams of eleven players. The governing body of American football is an international federation of American football. And today we are talking about a famous American football player named Joe Schobert.
Joseph Robert Schobert known as Joe Schobert is an American football linebacker for the Tennessee Titans in National Football League. He is a free agent who has been traded with five teams till now.
Where Was Joe Schobert Born?
On November 6, 1993, Joe Schobert was born to his parents in Waukesha, Wisconsin. Joe has not revealed any details about his family members, so we don't know his parents' names or what they do for a living. or about his siblings, if he has any. Joe was sent to Waukesha West high school to complete his primary education. As a junior, Joe set a record with 296 yards on 39 carried. For his college years, Joe enrolled in Wisconsin from the year 2012 to 2015.
Read More: DeShone Kizer Biography
What Does Joe Schobert Do For A Living?
Joe Schobert is a professional American football player who got picked in the NFL draft in 2016. Since then, he has played for five leagues including Cleveland Browns, Jacksonville Jaguars, Pittsburgh Steelers, Denver Broncos, and Tennessee Titans. He was selected in the fourth round of the NFL 2016 draft by the Cleveland Browns under a four-year contract.
See More: Kyle Lauletta Biography
Joe played against New England Patriots, Philadelphia Eagles, Baltimore Ravens, and New York Jets in the season of 2016. In 2020, Joe was approached by Jacksonville Jaguars with a five years contract. Since then, he was traded with the Pittsburgh Steelers in 2021, then with the Denver Broncos on August 15, 2022, and then was signed by Tennessee Titans in September 2022.
Who Is Joe Schobert Married To?
Joe Schobert is a husband and father to a baby boy. He got married to his longtime girlfriend Megan McDonnell in July 2018. Joe made a romantic proposal in front of the Eiffel Tower in March 2017 which was trending news in the sports media. They first met when studying in the same college in Wisconsin and started dating each other. Megan has always been there for joe and as a rooter for him in every game.
Read Further: Carson Wentz Biography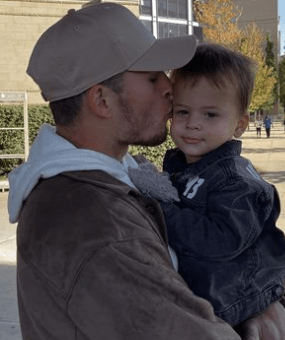 His wife, Megan is a dancer and owns her dance center called Schotime Dance Center located in Castle rock. The dance center offers dance classes for all age groups. She is also a video content creator and social media personality. Talking about the kids of Megan and Joe have a son named Simon West Schobert.
How Much Is Joe Schobert's Net Worth?
On the wiki, no exact amount is mentioned yet to determine his net worth. However, on the official page Spotrac, we can find that Joseph had a four-year contract with the Cleveland Browns of $2.97 million, a signing bonus of $634,000, and an average salary of $743,000 for the years 2016 to 2019.
In 2020, he signed a 5-year new contract with Jacksonville jaguars of $53 million with a signing bonus of $12 million and a $10 million average salary for the year 2020. He now resides in Castle rock in a self-bought house with his family. Joe is also active on social media and has over 56k followers on Instagram.
How Tall Is Joe Schobert?
Joe Schobert has a height of 6 feet 1 inch and weighs around 109kg at the age of 29. He is one of the best players in the NFL with a great athletic build. Joe is a handsome sportsman with blue colored eyes and dark brown hair.
For More News, Entertainment, Follow CelebWikiCorner.