In the dynamic realm of digital creativity, Quenlin Blackwell has been shining brighter than ever. Quenlin aka Quen Blackwell is a YouTuber, comedian and actress has carved out a unique space full of humour, relatable content and honest discussions about mental health.
Quen is also an advocate for body positivity and has spoken out about her own struggles with anxiety, depression, and an eating disorder. She has been an inspiration to many young people and is actively using social media platforms to make a difference in the world. 
Who Are Quen Blackwell Parents?
Quenlin Blackwell was born on 17th January 2001 in Cincinnati, Ohio to parents Danita Johnson (mother). Her mom is a registered nurse but details about her father are kept inside a box for now.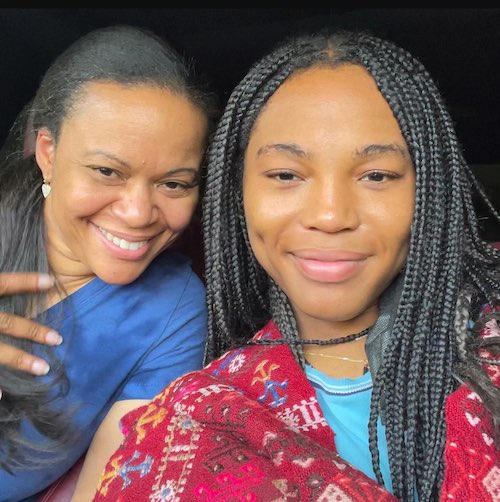 Discover: Emily Berrington Biography
Talking about her siblings, Quen grew up with two sisters Danielle and Asiah. Quen comprises mixed ethnicity (African-American) and holds American nationality.
Quen went to the Good Samaritan College of Nursing and the University of Texas in Arlington.
Why Is Quen Blackwell Famous?
Quenlin Blackwell is famous for being a social media personality who started her career on Vine in 2013. She posted comedy short videos on Vine under the username "quensadilla" and gained over half a billion loops and 500k followers.
Transitioning to YouTube after her Vine experience, Blackwell adjusted her content style to fit the platform's longer video format. Blackwell moved to YouTube, where she started uploading longer videos about beauty and comedy. 
Her subscriber count has grown significantly, reaching more than 944k subscribers on her YouTube channel. Notably, she has spoken about her experience with depression in one of her makeup tutorial videos. Some of her popular videos include "Reacting To My Old Cringey Facebook Posts", "My Biggest Pet Peeves", and "My Top 100 Vines".
Also Read: Autumn Reeser Biography
Likewise, in 2017, Blackwell gained attention from Teen Vogue for a spoof video centred around the Met Gala.
Furthermore, Blackwell has established a strong presence on Instagram, boasting an impressive 2 million followers on the platform.
Quen Blackwell and Diplo
Rumours suggested that Quen and DJ and Music Producer Diplo were dating but they are only good friends. The reason for their friendship was also a common factor, music.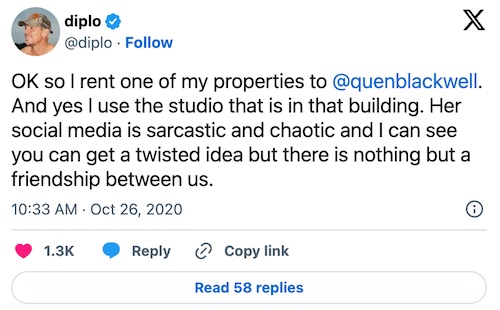 Diplo rented one of his properties to Quen and he used to use the studio that was in the building which might have fueled the fire to the speculation.
But Diplo was a supportive landlord and there is nothing more between them besides friendship.
Who Is Quen Blackwell Dating?
If you are one among the followers of Quen on her social media, you might have seen her boyfriend's transformation video. On 1st May 2020, Quen uploaded a video on YouTube featuring her boyfriend titled "Transforming My Boyfriend Into Me."
See Further: Bobbi Althoff (The Really Good Podcast) Biography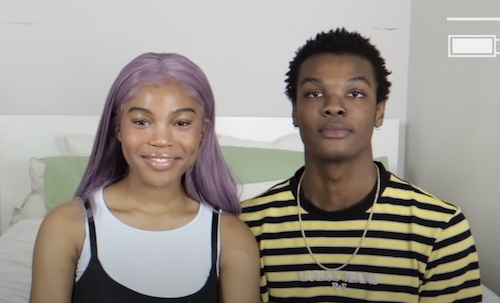 Her boyfriend Parker also has a good following on social media as he has around 12.7k followers on his Instagram and nearly 9.1k followers on Twitter.
Moreover, Quen first appeared on her boyfriend's Instagram on his birthday post on 18th May 2020. On the very same day, Quen also posted pictures with him on her Instagram wishing him a birthday.
Furthermore, on Valentine's Day of 2023, Quen shared a picture of her Valentine's Day gift, a mixtape that her partner gifted her. 
She wrote in the caption, 
I've GOT to brag…My boyfriend gave me the most thoughtful valentine's day gift i've ever received. He deadass MADE every aspect of this mixtape and commissioned an artist to recreate one of my ig pics into a drawing of me. I cried.
What Is Quen Blackwell Net Worth?
As a famous YouTuber and social media influencer with about 1.8 million Instagram followers, Quen's net worth is estimated to be around $500k. Quen's earnings may increase along with her rise in fame. 
How Tall Is Quen?
Social media personality, Quenlin Blackwell is about 5 feet and 3 inches tall ( 160cm)
For More News, Entertainment, Follow CelebWikiCorner.