Quick Facts
Birth Name
Ryan Joseph Fitzpatrick
Age
40 years
Birth place
Gilbert, Arizona, the United States
Siblings
Brandon Fitzpatrick, Jason Fitzpatrick, and Shaun Fitzpatrick
College/University
Harvard University
Relationship Status
Married
Nationality
American
Husband/Wife
Liza Barber
Children
7 (Brady, Tate, Lucy, Maizy, Zoey, Ruby, and Jake)
Height
6 feet 2 inches
Weight
102 kg
Net Worth
$30 Million
Zodiac Sign
Sagittarius
There are many benefits of starting a career at an early age. We will gain experience that increases our marketability to businesses as well as skills for potential future employment. Here are going to discuss Ryan Fitzpatrick who also starts his football career at an early age.
Ryan Fitzpatrick is a renowned American football quarterback. Ryan has played for nine different teams in his career. However, he retired from his football career in June 2022 after spending 17 seasons in the field and is now starting his new profession as a  TV analyst for Thursday Night Football on Amazon Prime Video.
What Is the Age Of Ryan Fitzpatrick?
Ryan Fitzpatrick was born on November 24, 1982, to Mr and Mrs in Gilbert, Arizona, United States which makes him 39 years old at the time of writing this article. He holds the citizenship of America and has the birth sign Sagittarius. Regarding his family member's details, he hasn't shared any information about his parents. The only detail that is known about his mother is that his mother passed away in August 2020. The cause of her death is unknown.
See More: DeShone Kizer Biography
His teammate Tua Tagovailoa and Josh Rosen also showed heartfelt condolence for the sudden demise of his mother and provided him with emotional support by assuring him that they are there for him. Ryan has three siblings whose names are Brandon Fitzpatrick, Jason Fitzpatrick, and Shaun Fitzpatrick. Similarly, he attended Harvard University where he took an economics major.
What Is The Professional Career Of Ryan Fitzpatrick?
While at  Harvard University, he initially served as Neil Rose's backup. And after Neil Rose graduated from college, he started playing as a quarterback. He leads the team of Harvard University as a senior captain and win the Ivy League Championship with a score of 10-0. His professional career started when St. Louis Rams selected him in the 2005 NFL Draft. On November 27, 2005, he made his professional debut by taking the place of an injured Jamie Martin. His opening game was against the Houston Texans. The game ended with a score of  33–27 and his team win the match.
After that in 2007, he was signed by Cincinnati Bengals for two years. Following that, in 2009 Ryan signed a four-year contract (2009-2012) with the Buffalo Wins. Moreover, he has played for six other teams in addition to this including Tennessee Titans, Houston Texans, New York Jets, Tampa Bay Buccaneers, Miami Dolphins, and Washington Football Team. While playing for Miami Dolphins, the team won 13 games out of 15 games. 
See Further: Joe Burrow Biography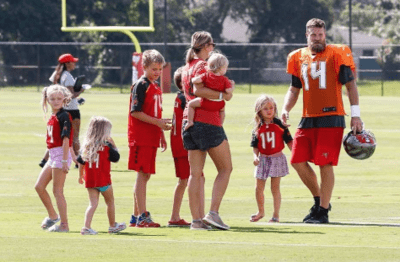 Similarly, as of 2022, Ryan has retired from his football career after playing for 17 seasons. The reason for his retirement is the hip injury that he encountered in the 2021 season opening. On June 21, 2022, he was assigned as a  TV analyst for Thursday Night Football on Amazon Prime Video. So, we will be seeing him as a Tv host from now onwards.
Who Is Ryan Fitzpatrick's Wife?
Ryan Fitzpatrick's wife is Liza Barber who is now known as Liza Fitzpatrick. According to the wiki, Ryan and Liza met each other when they were studying at Harvard University. Before getting married, the couple had opened a joint bank account. And in order to propose to Liza, Ryan used money from the joint account and bought a ring which he hide in his car.
He took Liza to McDonald's for lunch and got down on one knee and asked Liza to marry him while she was enjoying some chicken nuggets. Ryan and his wife Liza got married on June 24, 2006, in a private wedding ceremony.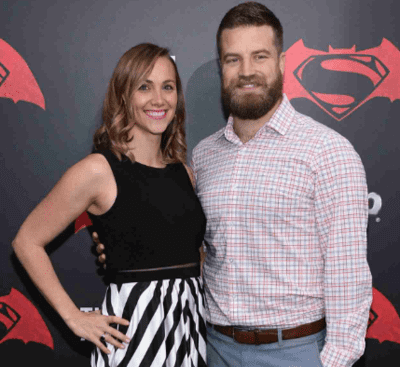 They are now happily married for 16 years. Also, Ryan never took out his engagement rings. According to Ryan, he and his wife had promised each other that they will never take out their rings under any circumstances.
Read Further: Kyle Lauletta Biography
Similarly, the couple shares 7 children together. They are blessed with a beautiful daughter and son. The name of their kids are Brady, Tate, Lucy, Maizy, Zoey, Ruby, and Jake, and they were born in different states.
What Is The Net Worth Of Ryan Fitzpatrick?
The total net worth of Ryan Fitzpatrick is estimated to be around $30 million. He has accumulated a huge sum of money through his career as a football quarterback playing for nine different teams in 17 years of seasons. His average monthly salary is around $500 thousand.
What Is The Height Of Ryan Fitzpatrick? 
The height of Ryan Fitzpatrick is 6 feet 2 inches and his weight is 102 kg. He loves growing a beard and never cuts his beard short.
For More News, Entertainment, Follow CelebWikiCorner.