Quick Facts
Birth Name
Anjelah Nicole Johnson
Birth place
San Jose, California
Age
41 years
Relationship Status
Married
Husband/Wife
Manwell Reyes
Height
5 feet 4 inches
Nationality
American
Father
Mitchell Johnson
Mother
Susan Zagar
Siblings
Kennie Johnson, Veronica Johnson
College/University
De Anza College
Net Worth
$500 Thousand
Zodiac Sign
Taurus
Anjelah Johnson is a talented actress, comedian, and businesswoman. She is known for her hilarious characters and her ability to make people laugh. She is a role model for young women and an inspiration to all who follow her.
Born and raised in San Jose, California Anjelah is also a former NFL cheerleader. She gained prominence after performing on MADtv's 13th season, where she created her renowned sketch character, Bon Qui Qui.
When Was Anjelah Johnson Born?
Anjelah was born on 14th May 1982 with the birth name Anjelahh Nicole Johnson in San Jose, California. Her parents Susan Zagar (Mother) and Mitchell Johnson (Father) had 4 kids. Anjelah grew up in a large family with three siblings. Kennie Johnson (brother), Veronica Johnson (sister) and Mitchell Johnson (brother) are her siblings.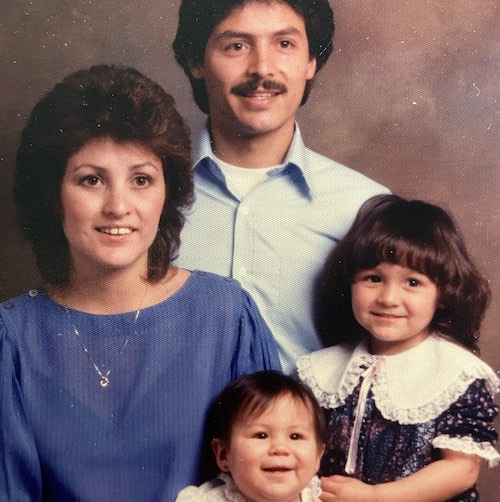 Her mom Susan aka Susie is a hairstylist by profession and her brother Kennie also followed in the same path. Likewise, her brother Mitchell is a musician, photographer and graphic designer. 
Anjelah went to San Jose's Lincoln High School and later earned a Speech Communication degree from De Anza College. 
Anjelah is of Mexican and Native American descent.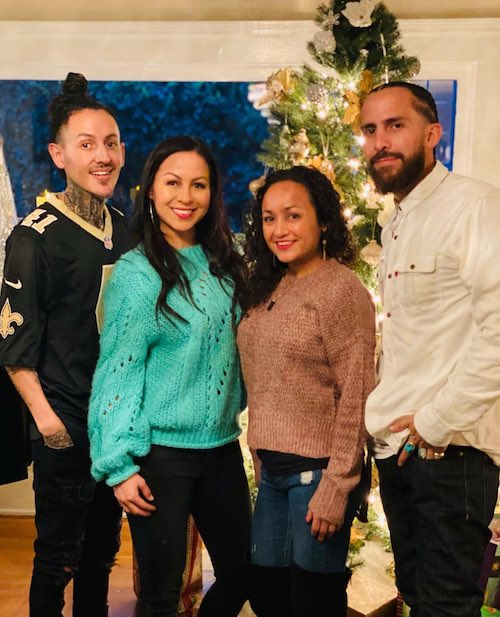 When Did Anjelah Johnson Begin Her Career?
Anjelah was very active since her childhood days and at the age of 8, she was a Pop Warner cheerleader. She also was active in sports like soccer, softball, and track. As she became a senior in high school, she started acting and was interested in imitating different accents. 
As she graduated from college, she started working as a cheerleader for the Oakland Raiders and then worked as a receptionist for a law firm.
Her career in stand-up comedy began in the year 2004 after she performed on the Los Angeles comedy circuit. 
She was also cast in a season of MADtv in 2007. Soon then Anjelah started performing in movies and was seen in movies and TV shows like The Hangover Part II, We're the Millers, Whitney, Are You There Chelsea?, Ugly Betty, and Superstore to name a few. 
Who Is Anjelah Johnson Married To?
Anjelah Johnson is happily married to her longtime partner Manwell Reyes. The duo first met at a mutual friend's wedding and sparks quickly flew among them. However, it wasn't until a mutual friend set them up on a date after nearly two years of their first meeting. 
Eventually, after dating for a certain time, the duo tied the wedding knot on 11th June 2011 in Half Moon Bay, California. 
Who Is Anjelah Johnson's Husband?
Anjelah Johnson's husband Manwell is a musician who was born in Germany and raised in Florida. 
Manwell is also the lead vocalist of Group 1 Crew one of the famous Christian gospel music groups. 
Together Anjelah and her husband also host a podcast together named Nights at the Round Table where they talk about life, love, religion and our deconstruction of them all.
Does Anjelah Johnson Have Kids?
Yes, Anjelah Johnson and her husband Manwell are now parents to a daughter named Rosalie Harlow Reyes. The duo welcomed their baby girl on 14th June 2023. 
The news of Anjelah's pregnancy was a major surprise to her fans. She first shared the news of being pregnant in December 2022 via Instagram where she shared a 2022 recap video ending with the surprise news.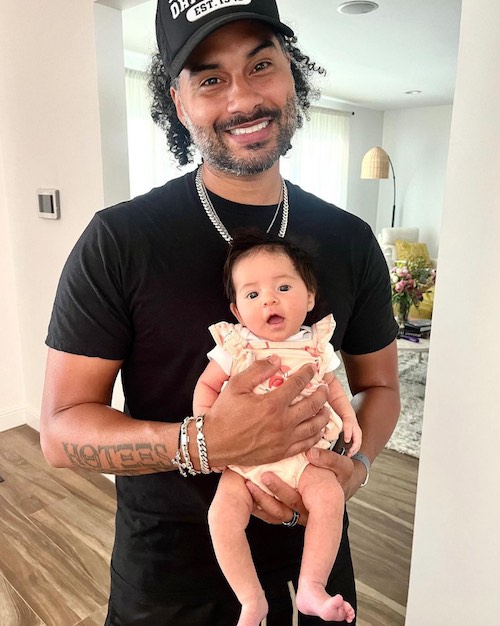 The news was a shock for many fans as Anjelah and her partner were vocal about not wanting to have children of their own. Moreover, in a YouTube video of 2019 titled "Are We Having A Baby" Anjelah and her partner confronted that they were still not planning to have kids. 
Additionally, her daughter's name Rosalie is the middle name of her mom which was given by her grandma. Her grandma was a big fan of Natalie Wood in the movie Gypsy Rose Lee, her love for the show inspired the middle name Rosalie by Rose Lee. 
What Is Anjelah Johnson Net Worth?
Besides being a comedian, actress and former cheerleader, Anjelah is also a host and author. So, as of 2023, Anjelah's net worth is estimated to be about $500 Thousand.
Her book Who Do I Think I Am? Is a memoir that addresses problems of identity, belonging, and her two childhood goals of becoming an actress and a Chola.
How Tall Is Anjelah Johnson?
As per the wiki, Anjelah Johnson-Reyes stands at an average height of about 5 feet and 4 inches. 
For More News, Entertainment, Follow CelebWikiCorner.