Quick Facts
Age
23 years
Birth Name
Eliza Scanlen
Birth place
Sydney, New South Wales, Australia
Birthday
January 6, 1999
Relationship Status
Single
Height
5 feet 4 inches
Weight
50 kg
Nationality
Australian
Siblings
Annabel Scanlen
College/University
Loreto Kirribilli college
Net Worth
$3 Million
Zodiac Sign
Capricorn
One of the highest-paying careers in today's modern world is the acting profession. Hence, many youngsters are pursuing careers as an actor and actresses. They began taking acting classes at a young age and found themselves an agent. Likewise,  Eliza Scanlen also starts her acting career at an early age.
Eliza Scanlen is a rising actress based in America. She is known for playing Milla in the 2019 movie Babyteeth. She is a future star.
How Old Is Eliza Scanlen?
Eliza Scanlen was welcomed into the world on January 6, 1999, in Sydney, New South Wales, Australia by her parents Mr. and Mrs. Scanlen. As of 2022, she is 23 years old. Eliza belongs to Australian nationality and is of caucasian ethnicity. Her astrological sign is Capricorn. Her mom's name is supposedly Susan Scanlen and her dad is said to be a businessman by profession. 
She isn't a single child of her parents. She has one twin sister whose name is Annabel Scanlen. During childhood, she and her sister used to have fun together by making something entertaining, whether it was a sketch, a play, or an imaginary world in their garden.
Read More: Emily Barclay Biography
In an interview with L'OFFICIELUSA on 6 August 2020, she said that she has a close bond with her sister and feels very lucky to have a sister in her life.  She also said that without her, she would not be the same person she is today.
Eliza is very close with her family, and she describes her father as 
"a businessman working in storage for over 20 years, as a man who maintains his goofiness even in front of his colleagues: "He's never pulled back on the humour when there are other people around."
Eliza further adds that her parents still aim to embarrass her when her friends come over, and her family laugh generally boils down to simple things, including silly voices and toilet humour. 
Moreover, Eliza completed her schooling at a Catholic school and went to an all-girls private school in high school. Likewise, it is said that Eliza graduated in 2016 from Loreto Kirribilli college. Since age 7, Eliza was enrolled on piano lessons but gave up playing the piano by age 13.
See Further: Toby Wallace Biography
What Is Eliza Scanlen Known For?
Eliza Scanlan grew up watching Wes Anderson films. She went to a theatre one day and instantly fell in love with acting. She then started taking school drama lessons and participated in every event. She used to get really angry whenever someone called drama a lazy topic since it was her dream. She also took acting classes on weekends. And when she was 16 years old, she pleaded with her parents to allow her to attend a three-week acting training in the US to pursue her passion.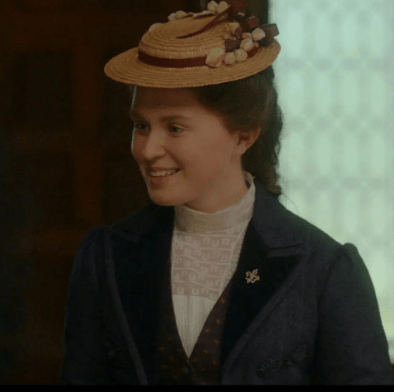 Her parents supported her career aspirations too. And in 2015, she got her first acting role as Eliza in the TV series Do You Mind? A year after, she was featured in the Home and Away TV Series as Tabitha Ford and appeared in all 15 episodes. It didn't take her long to land a main role since her acting skills were amazing.
Also Read: Ben Mendelsohn Biography
Then in 2019, she landed her first lead role in the movie Babyteeth. In Babyteeth, she plays the terminally sick girl Milla who falls in love with a drug dealer. In the movie, she is seen making an effort to make the most of the short amount of time she has left by living happily. She also gathers a huge fan base through her acting in baby teeth. As of 2022, her recent TV series is The First Lady. It was created by Aaron Cooley and is featured as Young Eleanor Roosevelt. 
Who is Eliza Scanlen's Boyfriend?
According to the wiki, Eliza Scanlen is single and has no boyfriend. She isn't dating anyone. She is occupied with her acting career and hasn't considered finding a partner. Moreover, there haven't been any rumours or news of her seeing any guy. She isn't active on any social media platforms, making it difficult to find details about her private life. 
What Is The Net Worth Of Eliza Scanlen?
Eliza Scanlen has a net worth of $3 Million. She has appeared in many hit movies and Tv series and is earning her livelihood through it. She is a future star; we will see her in many movies in the upcoming years. 
What Is The Height Of Eliza Scanlen?
Eliza Scanlen is an Australian actress with a height of 5 feet 4 inches. She is 50 kg in weight. She has blue eyes and blonde hair. 
For More News, Entertainment, Follow CelebWikiCorner.