Quick Facts
Age
51 years old
Birth place
Harlem, a neighborhood of New York City
Birthday
05/17/1970
Height
180 cm
Weight
182 lbs
Nationality
American
Father
Shaykh Allama Al-Hajj K. Ahmad Tawfiq
Mother
Mrs. Twafiq
Siblings
4
Net Worth
$2 million to $4 million
Zodiac Sign
Taurus
Juggling from one career to another, Hisham Tawfig has finally established himself in the film industry as one of the successful actors. He is an  American actor well known for his role as Dembe Zuma, a close friend of Raymond 'Red' Reddington in the NBC's series "The Blacklist". With his passion for the industry, he has achieved a lot in a short duration.
Prior to acting, he used to serve in the U.S marine and also used to serve as a firefighter for New York City Fire Department for 20 years completely. Besides these, he is also a father and a husband. Here is everything you need to know about Hisham Tawfig's professional career along with his personal life.
How Was The Childhood Of Hisham Tawfig?
Hisham Tawfig was born on 17 May 1970 so his age is 51 years old. He is the son of Shaykh Allama Al-Hajj K. Ahmad Tawfiq and Mrs.Tawfiq. His father was an Imam, a follower of Malcolm X, and the founder of the 'Mosque of Islamic Brotherhood'. However, the information regarding his mother is still unknown. Unfortunately, Tawfig lost his mother at the age of four and his father at the age of seventeen.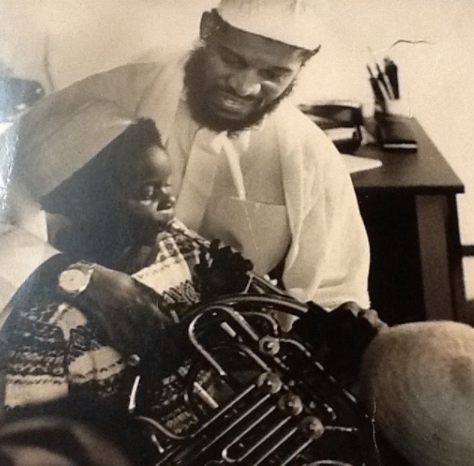 Moreover, Hisham was raised in Harlem, a neighborhood of New York City along with his siblings in a Muslim Family. He is the eldest of five brothers. After the demise of his parents, he took the responsibilities of his siblings. Furthermore, he belongs to the Muslim community and holds American nationality. Hence, belonging to the Muslim community, he was assumed that he might be from Ghana or someplace from Africa and got teased a lot due to his appearance. 
Also Read: The Blacklist Actor Amir Arison Biography
What Is The Educational Background of Hisham Tawfig?
Initially, Hisham was homeschooled up to sixth grade, usually surrounded and protected by his family members. After the sixth grade, he went to public school where he got the chance to explore the outside world and found his love for art during high school while performing the poem by Maya Angelou. Moreover, to enhance his acting skills, he studied at the Negro Ensemble Company. However, it is not known if he is a graduate or non-graduate.
How Did Hisham Tawfig Choose His Career Path?
In the first instance, Hisham served in the U.S. Marines. Then from 1996, he worked as a firefighter while pursuing his acting career. So, he served as a firefighter for 20 years with the New York City Fire Department. While serving as a firefighter, he was also featured in the movies and tv shows which include Intimate Apparel, A Raisin in the Sun, Dead Man Down, Gun Hill, Law & Order, Kings, 30 Rock, The Blacklist, etc. Moreover, he considers his role in the movie 'A Raisin in the Sun' as his dream role.
Read Further: The Blacklist Actor Diego Klattenhoff Biography
Almost at the end of his serving years, Hisham got the opportunity to portray himself as Dembe alongside James Spader in NBC's 'The Blacklist' through which he got his worldwide recognition. In this particular series, his character didn't exist in the original script so he got the chance to create his line via his life experience. Furthermore, his character was loved by the audience due to which he was starred in the series regularly from season 3.
Who Is Hisham Tawfig's Married To?
The Blacklist star, Hisham Tawfig is blissfully married to his girlfriend, Spirit Trickey. She is an Antiracism educator, Speaker, and the founder of 'Roots of the Spirit'. She had a huge crush on him. After dating for several years, this duo tied their wedding knot in July 2016. On their wedding day, they choose traditional attire where Hisham wore a white suit with golden embroidery and Spirit wore a white strapless mermaid gown.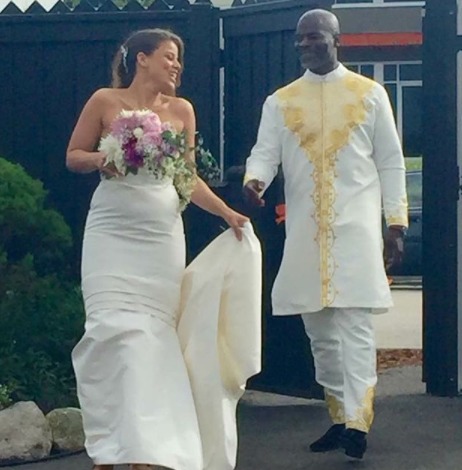 Moreover, this beautiful couple went to Marrakech, Morocco for their honeymoon. After the marriage, Spirit adopted her husband's last name Tawfig and is now recognized as Spirit Tawfig. Furthermore, Spirit is also the host of the 'Roots of the Spirit' podcast where she has interviewed her husband too.
Does Hisham Tawfig Have Children?
In terms of children, Hisham has two sons. His eldest son, Khalil Tawfig was born on December 25, 1999. He is 23 years old as of 2021. Khalil is now pursuing his musical career after dropping his idea of becoming a football player. Hisham always supports his decision no matter what. However, the identity of Khalil's mother is a mystery.
Moreover, talking about his younger son, Nizami Tawfiq. Hisham and his wife, Spirit welcomed Nizami on 20 May 2021. Hisham is performing his parental duties very well and enjoying his phase of fatherhood.
See More Of Black List Cast Laura Sohn Biography
What Is The Net Worth Of Hisham Tawfig?
Dembe aka Hisham Tawfig has been featured in a well-known show. So, we can assume that he earns a handsome amount of money through which he has been living a luxurious life with his wife and children. According to various sources, Hisham Tawfig's net worth is speculated to range from $2 million to $4 million. Moreover, he also gets his pension as a reward for serving as a firefighter.
What Are Hisham Tawfig's Physical Statistics?
According to the wiki, Hisham Tawfig stands tall with a decent height of 5 feet 11 inches that is around 180 cm, and weighs around 87 kg that is around 192 lbs. Moreover, he has got a smiley face.
For More News, Entertainment, Follow CelebWikiCorner.