Quick Facts
Birth Name
Rami Said Malek
Birth place
Los Angeles, California, United States
Age
42 years
Relationship Status
Dating
Girlfriend
Lucy Boynton
Height
5ft 9inches
Weight
70kg
Nationality
Egyptian-American
Father
Said Malek
Mother
Nelly Abdel Malek
Siblings
Sami Malek, Yasmine Malek
College/University
Notre Dame High School, University of Evansville
Net Worth
$20 million
Zodiac Sign
Taurus
There is a famous saying that in this competitive world, "People tend to only remember those in the first position and ignore those in remaining positions". In a certain aspect, the myth is indeed true because history is only considered to be made by people who reach the milestone at the primary place. While we are talking about the entertainment industry, do you know who was the first Egyptian-American to win the prestigious Emmy Award for acting? Of course, today we are talking about none other than Rami Malek.
Rami Malek is an American-Egyptian actor who has done many incredible movies and TV series First, he started his career in a supporting role in The Pacific, Night at the Museum, the twilight saga, and the master, and then he gave his acting talent a new wave when he started doing few of his lead acting movies in which he has portrayed him as Elliot Alderson in Mr. Robot which was commended by US network and he even won his first Emmy which was in 2016 later on, he was in Bohemian Rhapsody as Freddie Mercury in 2018 which was the very remarkable role played by him that lead him to win an Oscar and a golden globe award in a very short period.
How Old Id Rami Malek?
Rami Malek age is a 42-year-old American-Egyptian actor who was born on the 12th of May in 1981 in Los Angeles by both parents who are Egyptian by their nationality. He was raised along with his two siblings his older sister Yasmine who is an ER Doctor by profession and his identical twin brother who is four minutes younger than him Sami who is an English teacher by his profession. 
His father Said Malek is a tour guide by profession and his mother Nelly Abdel Malek worked as an accountant by profession were immigrants from Egypt and perhaps, Rami Malek was raised in LA following the Coptic Orthodox faith. He speaks both English and Arabic language, his zodiac sign is said to be Taurus and he is American-Egyptian by nationality.
See Further: Florence Pugh Biography
From Where Did Rami Malek Graduated?
Growing up with different cultural aspects it was really hard for Rami Malek to adjust to an environment where people cannot even pronounce his name properly. Malek attended a high school called Notre Dame High School where he was in musical theater and there he shared his high school with two renowned actresses Rachel Bilson and Kirsten Dunst. Malek's parents want him to be a lawyer and it changed when he performed in high school. He felt something magical on the stage the positive reaction from his parents and Malek graduated his high school in 1999.
Primarily, as soon as he finished high school he went to study theater at the University of Evansville which was located in Evansville, Indiana. He even abroad to England, where he spent his semester at Harlaxton College, and in his senior year, he entered Eugene O'Neill Theater where he took part as a scenarist of August Wilson.
See More: Josh Zuckerman Biography
Then he completed his BFA in the year of 2003. Later on, he was awarded a very prestigious award Young Alumnus Award 2017 which is given to those who have attained personal success and have contributed to their community.
When Did Rami Malek Start His Career?
Right after Rami Malek finished his University in 2003. He returned to his hometown LA and he wanted to get tracked to his acting career As soon as he arrived in LA, he started doing a few small roles in television shows which are Gilmore Girls and Medium, and then he did Fox's comedy The War at Home in 2005 where he portrayed himself as gay and played the role of Kenny.
Read Further: Jack Quaid Biography
Primarily, he was cast in the movie The Night at the Museum in 2006 where he played the role of Pharaoh Ahkmenrah which he played for the next two sequels and in 2010 he was praised when he was seen in the HBO World War II '" The Pacific" then he continued to give hits even he played supporting role in very famous shows which is Larry Crowne, Twilight Saga: Breaking Dawn-part 2, Old boy and The Master. His career life took off to rocket when he was cast in the psychological drama "The Robot" where he played the role of Elliot Alderson, a cybersecurity engineer, and hacker. Which led him to win the prestigious award Golden Globe and take his Emmy in 2016 making him the first Egyptian-American actor to do so.
His career made a huge headline when he was discussed to play the role of Freddie in "Bohemian Rhapsody" which is the biopic of the legendary frontman of the Band "Queen" and again, he won the Golden Globe for Best Performance by Actor in a Motion Picture in 2018 rendered the role of rock star and it didn't stop there he won BAFTA Award for Best Actor in the Leading role and again he won a huge award which is OSCAR. He won his first OSCAR for best leading actor in "Bohemian Rhapsody".
Later on, after having a huge success in Bohemian Rhapsody Rami Malek was offered the role of a terrorist-type villain in the movie "No Time to Die" but Malek refused to take the role due to their religious bent.
Is Rami Malek Married?
Rami Malek has yet to get married and he has no wife but is currently dating The Crown's actress Emma Corrin. His partner Emma came out as non-binary and swapped te pronoun from 'she/her' to 'they/them' in 2021.
Rami and Emma were first spotted close up together at the Bruce Springsteen concert in July 2023. A month later, the duo were spotted kissing together following strings of dates. In August 2023, the pair were spotted sharing smooch over lunch at the Buoy and Oyster restaurant in Margate, Kent.
Furthermore, a look back into his dating history reveals that he once dated an actress Angela Sarafyan, and later on, he was allegedly in a relationship with his co-star of Twilight Portia Doubleday recently, He has been in a relationship with his co-star of Bohemian Rhapsody Lucy Boynton. Both Rami Malek and Lucy Boynton are yet another couple who were enchanted by each other charms while on the set. Both the stars do not have social media and tend to keep their relationship private.
Read Further: Jocko Sims Biography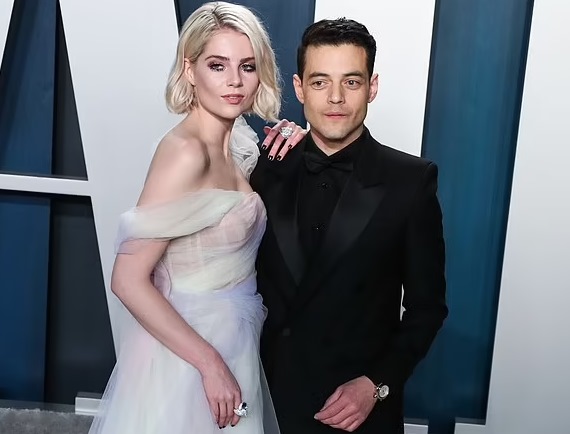 According to the media, both fell in love when they met each other on the set of Bohemian Rhapsody in 2017, and their relationship was publicized in 2019 when the actor mentioned the actress in his acceptance speech while winning an award. However, Rami and his former girlfriend Lucy broke up after 5 years of their relationship.
What Is The Net Worth Of Rami Malek?
From playing a small role in Gilmore Girls and Medium to winning an Oscar for Best Leading Role Actor, Rami Malek has come so far from his journey. During this time of his career, he has done many movies and TV series and many brand endorsements he has earned a pretty good amount of wealth.
According to the wiki, Rami Malek is said to be one of the Richest TV actors and his net worth is about $20 million. He has come so far while playing small role-playing the character Freddie in the huge blockbuster Bohemian Rhapsody. We have many things to learn from him as a person and as an actor.
What Is The Height Of Rami Malek?
The Egyptian-American actor is very charming and eye-catching in his physical appearance. His eyes are green in color and he has a very subtle white skin complexion with thin lips and a high bridged nose with dark black hair his height is said to be 5ft 9inches which is 1.75m and as per weight is 70kg (154 lbs) and his waist is 30 inches.
For More News, Entertainment, Follow CelebWikiCorner.