Austin Tyler Reaves known as Austin Reaves is an American professional basketball player. He plays for the Los Angeles Lakers of the National Basketball Association (NBA). He is the son of Nicole Wilkett and Brian Reaves, who were also basketball players in college for Arkansas State. Even his older brother, Spencer Reaves played basketball for North Greenville and Central Missouri before starting his professional career. His brother encouraged and was the reason that Austin became interested in Basketball.
Austin is a shooting guard for the Los Angeles Lakers with jersey no. 15. He has been setting records since school, he scored 73 points in a triple-overtime win over Forrest City High School. For his college years, Austin first entered Wichita State and won over Tulsa by making a sophomore season-high score of 23 points. Then he got transferred to Oklahoma and went as a 2021 NBA draft. On August 3, 2021, He signed a two-way contract with Los Angeles Lakers and on September 27, he signed an NBA contract.
Who Is Austin Reaves Dating Now?
Austin Reaves is a basketball player at rising, he is too focused on his career. He does not have a girlfriend. Or if he does, he is very good at keeping her a secret because there are no names on the internet to be linked with him. On his social media account, there are only a few posts that are all about his basketball. There is no glimpse of anyone or someone special in his life right now.
Discover: Is Justin Marks Married? Who Is His Wife?
However, as we look back, Austin was seen to be dating the stunning 22-year-old social media influencer named Jenna Barber. Jenna was born on 20th December 2000 and she was attending the University of Arkansas for her studies.
 Austin and his former girlfriend were vocal about their relationship. They became public about their relationship back on 17th April 2022 when Jenna first shared their pictures together on her Instagram. Their cozy pictures and loveable comments soon caught the eye of their fans which hinted they were officially dating. 
But the Instagram post made on 17th April 2022 wasn't their first post together. Even back on July 4, 2015, Jenna featured Austin in her Instagram picture. Her photo's caption read:
Glad I got to spend the 4th w you ❤️🎇🇺🇸
Where Austin had replied in the comment section,
Awh I'm blessed ❤️
The caption and the comment clearly hinted they were so in love and were in a relationship together. However, as of now, the posts are no longer available on their Instagram. Seems like the pair have parted ways.
Read More: Tua Tagovailoa Wife| Who Is Annah Gore? Insight Into Their Wedding & Married Life
He recently signed a contract with the Lakers and has only played three matches till now. On October 22, 2021, he debuted his NBA against Phoenix Suns scoring 115-105 points but his team lost. The second match he played was on December 15, and he scored 15 points and hit the game with 3 winning pointers in a 107-104 victory over the Dallas Mavericks. And on April 10, 2022, Austin won the Denver Nuggets.
Who Is Austin Reaves's Girlfriend?
Besides Austin's relationship with the social media influencer Jenna Barber, there is no information about Austin Reaves having a partner right now. So, he might either be dealing with the breakup or may be focusing on flourishing his career. If in the future when he gets settled with his career he might decide to share about his personal life. The only time we see him on the camera is when he plays or gives an interview for his work. It looks like he does not want to share his life except for work. However, he does have a craze among female fans of basketball. Recently he stumbled upon a female audience member while playing and knocked off her drink. And the fan did not get offended a bit instead she was hooting for him a few minutes later.
See Further: Is Aaron Judge Married? His Wife & Kids Details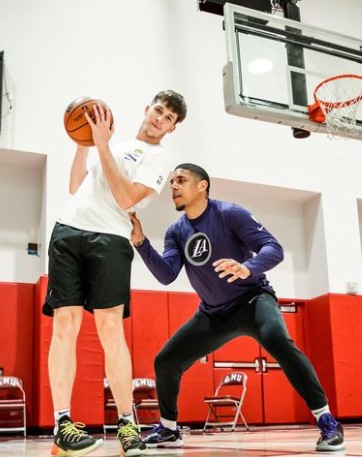 For More News, Entertainment, Follow CelebWikiCorner.