Quick Facts
Birth Name
Hunter Doohan
Birth place
Fort Smith, Arkansas, US
Age
29 years
Nationality
american
Relationship Status
married
Husband/Wife
Fielder Jewett
Height
5′ 11 inches ((1.8 m)
Weight
75 Kg ( 165 Lbs.)
Father
Peter Doohan
Mother
Angie Harper Carmichael
Siblings
John Doohan
Net Worth
$ 1million to 3 million
Zodiac Sign
Capricorn
Hunter Doohan, who is a professional American writer, actor, and model, has worked primarily in many dramas and series, but during his early career, he struggled a lot to grab and attract opportunities. However, once he got it, he did incredibly well. One of the best examples of his work is "Wednesday," a supernatural dark comedy series that has been a hit and trending series on Netflix right now and in which his role is Jericho "Normie" Tyler Galpin. 
Within a month of Wednesday's release, the series has broken numerous streaming records at Netflix and is still dominating the charts, remaining at the top. Their viewers are more than excited to find out if the characters Wednesday and Tyler (our own Hunter Doohan) will eventually become a couple, especially after a Dance they'll attend at Nevermore.
Many of Doohan's fans are invested in his romantic life and might wonder about his real-life romantic relationship. Although his previous dating life is not much known except for the fact that he had a girlfriend during high school and not much is known about her, now the world knows about his married life with Fielder Jewett. So, when did they start dating and finally get married? Keep reading to learn about it all.
Meet Hunter Doohan As A Young Guy
Hunter Doohan was born on January 19, 1994, in Fort Smith, Arkansas, USA, to his parents, Angie (mom) and Peter Doohan (dad). The Wednesday star first got into acting during a high school play and later shifted to Santa Monica to participate in a 2-year acting program.
Discover: Hunter Doohan Siblings | His Family & Parents Details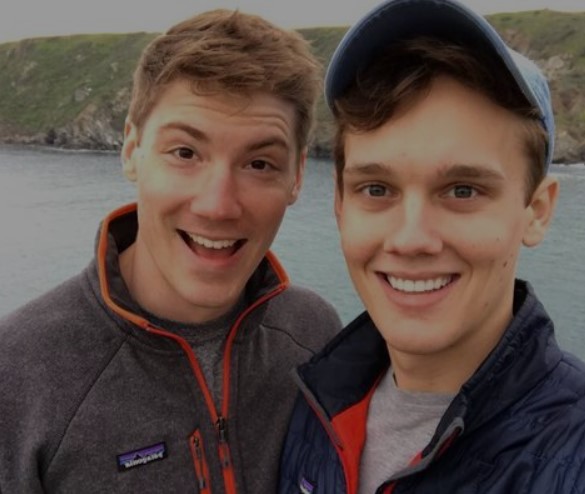 In an interview, Doohan revealed that watching Will & Grace, introduced by his then-girlfriend, played an important role in helping him realize that he was not straight. Yes, Hunter Doohan is gay, and he realized it only during his high school years.
Who Is Hunter Doohan's Husband, Fielder Jewett?
Fielder Jewett isn't an actor but did work in the entertainment industry as a producer after graduating from the Connecticut school and earning a bachelor's degree in film studies. He first worked as an assistant and later worked his way up to producer. He also worked as a freelance producer for four years and eventually left his position in mid-2021 to pursue a degree in law from Loyola Law School.
Discover: Hunter Doohan Net Worth | His Salary & Earnings Explained
How Did Hunter Doohan And Fielder Jewett Meet?
Although it's not clear how they first met, it can be that they came across each other in the industry while working, or it could be through a mutual friend of theirs like many other couples. It's still unclear since Doohan hasn't said much about it, and his partner Jewett has not yet spoken anything on how and when they met.
How Long Have Hunter Doohan And Fielder Been Together?
It's not yet been publicly revealed how long they've been together, but Doohan posted their first photo together in June of 2018 with the caption, "Goes camping once; take me back." 
When Did Hunter Doohan and Fielder Get Engaged?
Doohan proposed to Jewett in their apartment on December 31st (New Year's Eve). He posted a photo of himself proposing to his loved one by getting down on one knee, with a caption beside the photo written as
"Is there anything more 2020 than an at-home proposal?" I love you, @fielder jewett! "I can't wait to marry you!"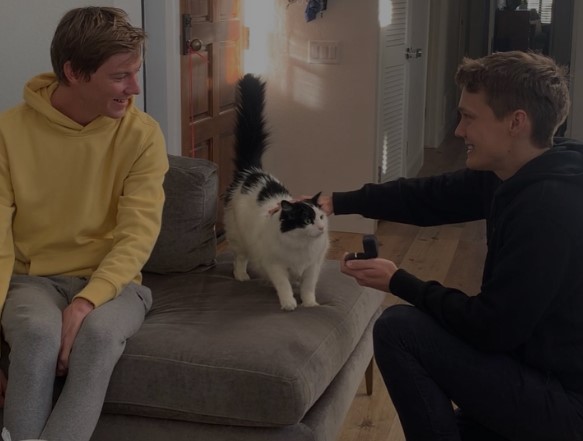 When did Hunter Doohan and Fielder Jewett Get Married?
In Hunter Doohan's Instagram post on June 17, 2022, he and his now-husband, Fielder Jewett, did tie the knot. He shared a black-and-white photo from his wedding with the caption:
"Trying to sum up your wedding in an Instagram caption is hard... It was the absolute best day of our lives! Thank you to everyone who made it special.
Discover: Georgie Farmer Biography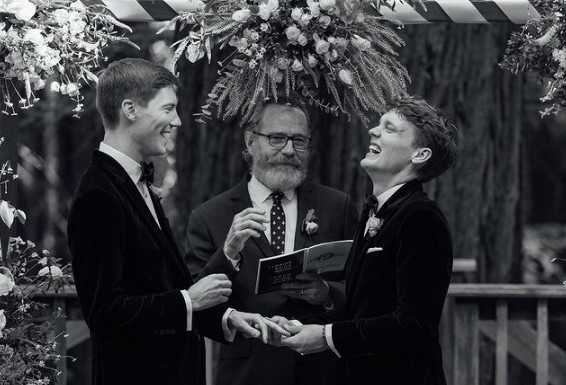 We wish them the very best for a successful and happy married life. Speaking of success, within a month of Wednesday's release, the series has broken numerous streaming records on Netflix and is still dominating the charts remaining in the top. Now, we are desperately waiting for what's there in Dohan's character Tyler in the maybe upcoming Wednesday season 2.
For More News, Entertainment, Follow CelebWikiCorner.