Jeremy Joan Pena aka Jeremy Pena is a well-known baseball player. As of 2022, he plays for the Houston Astros of Major League Baseball (MLB). He started playing baseball when he was studying at Classical High School. Since then he has been developing his career in baseball sports and has taken part in different championships.
Jeremy also had a successful career in college and the Houston Astros were aware of his talents. So, in the third round of the 2018 MLB Draft, the Houston Astros selected Jeremy to be their player. Similarly, in 2022 Jeremy won the AL 2022 Gold Glove Award. Jeremy became the first rookie in Astros history to win a Gold Glove and the first rookie in MLB history to play shortstop and win a Gold Glove.
Who Is Jeremy Pena Dating?
Jeremy Pena is presently in a relationship with Vasiliqi Turlla. His girlfriend Vasiliqi Turlla is also an athlete. Jeremy met his girlfriend Vasiliqi when both of them were studying at the  University of Maine. However, he hasn't revealed any information to his fans about their dating history such as when they started dating each other or who propose first. So, there is still question marks on that question. He might be considering keeping these things to himself and focusing on his relationship with his partner right now.
Discover: Is Justin Marks Married? Who Is His Wife?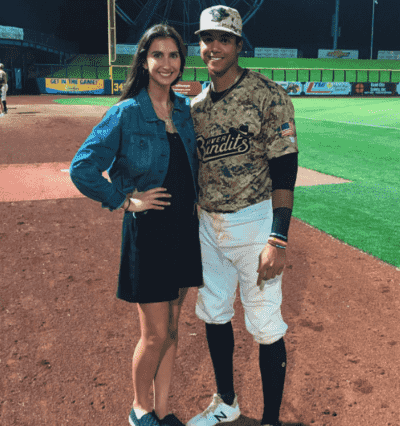 Similarly, he made his relationship with Vasiliqi public by posting photos on his Instagram account on June 12, 2019, where he stated that he was thrilled to play that week in front of his number-one fan. He shared pictures of them together again on December 8 of the same year, and judging from the pictures, it appeared that they were going to attend the events. But after that, he hasn't shared any pictures with her.  It doesn't mean that they aren't together. They are still together as of 2022 and are happy with each other. Vasiliqi Turlla attends every game of Jeremy to cheer him up. 
Discover: Is Steve Kerr Married? Who Is His Wife?
Who Is His Girlfriend Vasiliqi Turlla?
Vasiliqi Turlla is an athlete by profession who was born in 1998 in Bangor, Maine. She is an American by nationality. She attends the same university as Jeremy. Vasiliqi Turlla has been active in sports since school.  She competed on the track and field team before she graduated from Bangor High School in 2016. Vasiliqi took part in a variety of competitions, such as the high jump and javelin. She also participated in a sports competition that the University of Maine Athletics Department sponsored in honor of National Girls & Women in Sports Day (NGWSD).
It was held on February 6, 2019.  She has moreover taken part in various high jump competitions and has won many titles. She placed sixth in the high jump (1.45 meters) at the New Hampshire Invitational on April 13, 2019. The same year, she placed fourth in the 1.45m high jump at the New Hampshire v. UMaine Meet. Moreover, in an interview with Maine Black Bears, she said that her father is her role model. He supports her in every aspect of her life be it in education, athlete career, or anything in life. Vasiliqi's dad always guides her to become a better version of herself. 
For More News, Entertainment, Follow CelebWikiCorner.