The Walking Dead star Angel Theory needs no introduction. Angel has been part of this challenging profession even though she is a hard-hearing actor. Angel lost her hearing at the age of 14 due to two car accidents.
Being an actor with hearing difficulties, she adeptly navigates both the realm of those with normal hearing and the one of the hard of hearing. Her decisions have led to her gaining more prominence in the entertainment industry, making her presence increasingly noticeable. 
With her career in the highlights, fans are curious about her personal life, and the actress has been open about her love life from the very beginning. 
Is Angel Theory Gay?
Yes, The Walking Dead star Angel Theory opened up about being gay via her Tweet on November 27th 2018, where she stated 
"Yes I'm a girl who likes girls… Nothing complicated about it… Some of ya act like you never heard the word 'GAY' before. I am proud of who I am. As long as God, my family, friends and fans love me for who I am I'm not stressing about your negative attitude."
Also Read: How Many Kids Does Bernice Burgos Have? All About Her Family 
Who Is Angel Theory Dating?
Actress, dancer and choreographer Angel has been relishing a wonderful relationship with her longtime girlfriend Dika Caray.
The duo knew each other since their teenage years. At the age of 16, they used to have endless phone calls all night and even rolled into the next day. They used to live far away boroughs and did everything in their power to see each other as much as possible.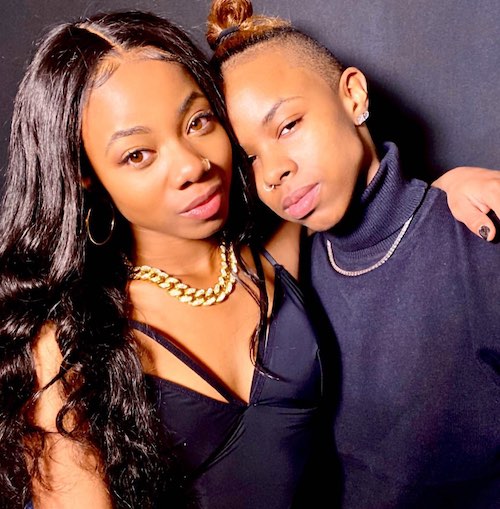 On the 21st Birthday Angel, her girlfriend shared their picture and wrote a long caption where she revealed their initial days. The caption read, 
"Sheeshhhh....where does the time go?! I swear it feels like not that long ago we were just 16. Staying up all night having endless phone conversations that rolled into the next day. Doing everything in our power to see each other as much as possible while living in two separate, far away boroughs, sneaking any little moment in just to be in each other's presence, and I just think to myself like, look at us NOW. We've come such a long way and I am so grateful for our journey. I've had the opportunity to grow as a person and as your partner alongside you and be the person to share the rest of life's moments with. You've become a part of me in ways you dont even know. Looking back on it all, i'd say that we will only get stronger. I truly couldnt be more proud of everything your achieving babe🌹To be able to have a front-row seat watching you work so hard to make all of your dreams a reality is both a blessing and an honor🙏🏽 I always knew you were going to be something far beyond you ever imagined and this is ONLY the beginning baby. God knew what he was doing with with you and he did me the biggest favor allowing me to meet my bestfriend, life partner, and my soulmate at such a young age❤️ You deserve nothing but the best that life has to offer😘 I love you baby, Happy Birthday🥰🎉🎊🎂✨ Now lets turn up😝🍾 #21"
See Further: Is Devon Bostick Married? Meet His Partner & Girlfriend
Who Is Angel's Partner Dika Caray?
Angel's partner Dika Caray is also a dancer who often posts dance videos with her girlfriend on her social media. Dika has around 1.8k followers on her Instagram. Furthermore, the duo also have a YouTube channel named Angel & Caray which has around 600 subscribers and was created on 17th February 2018. Their YouTube channel consists of only a dance video of Chris Brown's song To My Bed. The video was choreographed by Angel herself. 
For More News, Entertainment, Follow CelebWikiCorner.