Manu Raju is a well-known American journalist, particularly recognized for his work at CNN (Cable News Network). He was a Senior Congressional Correspondent at CNN. He gained prominence for his coverage of politics, especially his reporting on Capitol Hill, congressional debates, and various legislative matters.
Raju has been widely recognized for his insightful reporting and his ability to provide in-depth analysis of complex political issues. He often conducts interviews with lawmakers and other influential figures, helping to shed light on the inner workings of the U.S. government.
Who Is Manu Raju Married To?
CNN Manu Raju is blissfully married to his beloved wife Archana Mehta. 
Although CNN Manu Raju seemed to have set immense privacy for his personal life, his at times mention of each other on social media awws their fans and has set a new definition for family goals. 
See More: Who Is The World's Sexiest Weathergirl Yanet Garcia Dating Now?
Manu is the favourite journalist of his wife which she revealed on the 2016's birthday of Manu via Tweet and even added being a biased wife. Likewise, Manu replied that his partner is an unbiased observer of the world's best wife.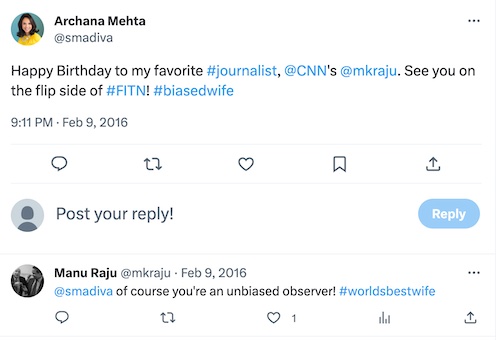 Moreover, his wife Archana is also an accomplished person as she is an entrepreneur and principal at the marketing firm AM Strategies Inc.
See Further: Natalie Morales Net Worth | All About her Earnings & LA House
How Many Kids Does Manu Raju Have?
Manu Raju and his wife Archana are parents of two kids together, twins. On 6th November 2016, they first welcomed their eldest baby girl at 9:33 pm and two minutes later she was joined by her baby brother. The duo have named their daughter Sonya Sushila Raju and son Sanjay Mehta Raju.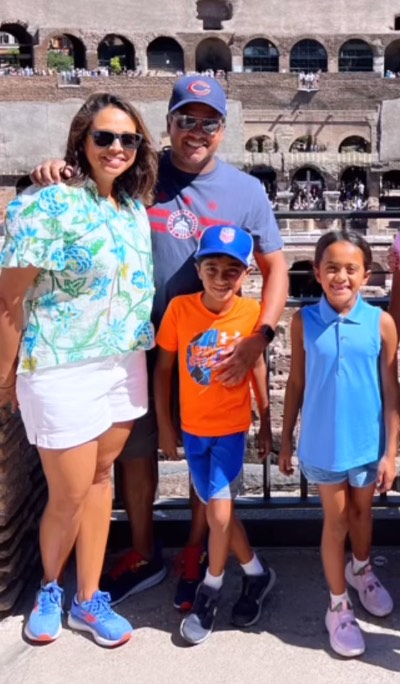 An American couple of Indian ethnicity Raju and his wife share a close-knit connection with their kids. The duo are often seen spending quality time with their children. As of 2023, the family of 4 has been spotted sharing a wonderful family vacation in Rome, Italy.
See Further: Mike Holmes Wife | Mike Found Love Again After Being Divorced From His first Wife Alexandra Lorex
What Happened To Manu Raju Arm?
Nothing has happened to Manu Raju's arm but in May 2021 when he was getting ready for a live broadcast on Thursday evening at the Capitol, CNN's chief congressional correspondent had a brief humorous incident.
A large cicada made its way onto his neck, causing the typically composed reporter to react with a series of strong words. The amusing episode was captured on video, although it wasn't aired. 
Manu Raju himself shared a clip of the close encounter with the insect on Twitter. During the incident, Raju engrossed in a conversation with producers, was unaware that the cicada was making its way up his shirt and suit.
For More News, Entertainment, Follow CelebWikiCorner.